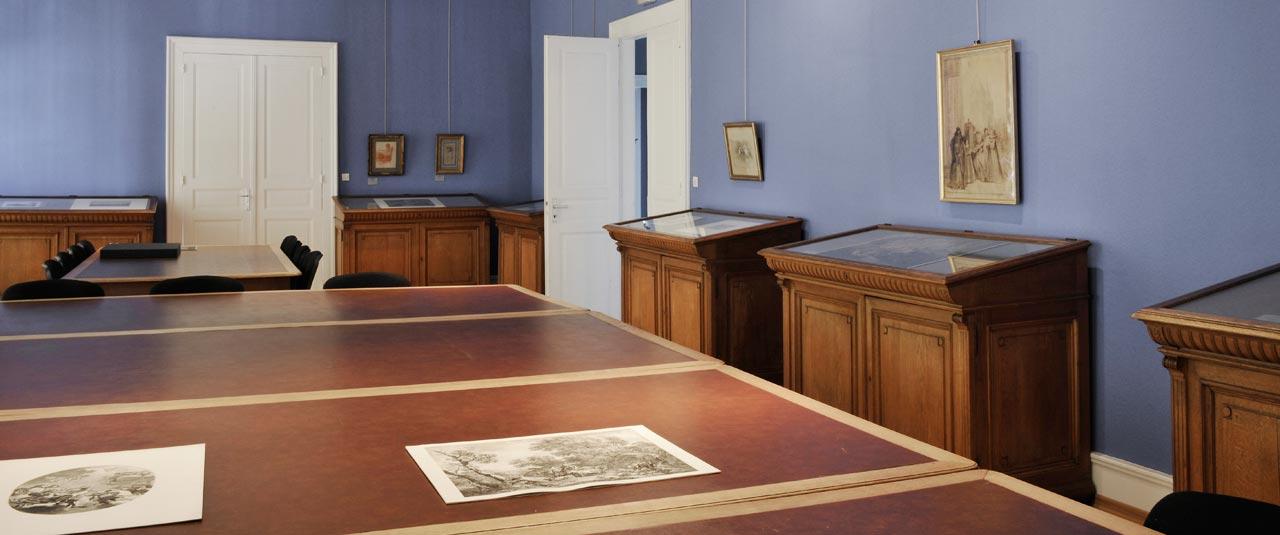 Welcome to the
Print Room
Welcome to the
Print Room
The Gallery of Prints and Drawings has a rich collection of some 150,000 graphic works, covering five centuries and spanning the most varied domains and techniques: fine arts, decorative arts, architecture, history, popular arts… These works on paper, some of which are more than 500 years old, require special attention.
Consultation by appointment only
These works are viewed in the shadow of the Cathedral, in the specially prepared consultation room. Making an appointment is an essential step in order for the works contained in the reserves to be prepared. This will ensure maximum comfort during the visit, while also ensuring the protection of the treasures found in this collection.
Privileged access to heritage
By directly consulting the works, without having to remain at a distance, the visitor can have direct access to hundred-year-old collections. This allows for a better grasp of the particularity and richness of the engravings and drawings on old paper.
Visitors can contact the Print Room team by telephone or e-mail in order to define a research subject, special interest, monographic domain, etc. Upon arrival, the works are laid out in a consultation room where the visitors can benefit from a calm setting. To make this visit more enjoyable, the Print Room personnel makes its documentation and its skills available to visitors.
Certain excessively requested holdings may be excluded from the consultation, so as not to jeopardise their continued existence.
Researchers can also obtain information at a distance, and assistance with a personalised search.
The Print Room
5 place du Château